About Us
TAGLaw®, TIAG® (The International Accounting Group), and TAG-SP® (Strategic Partners) combine to form an international, multidisciplinary alliance of independent professional service firms, known as TAG Alliances®. For more than 20 years, TAG Alliances members have leveraged the global reach and local expertise of fellow like-minded firms to facilitate the international needs of their clients. As one of the largest and most respected multidisciplinary alliances in the world, TAG Alliances members provide high quality, cost-effective, and value-driven legal, accounting, and other professional services across all industry and commercial sectors.
Being a member of TAG Alliances enables you to confidently refer your clients to top rated and responsive professional service firms. Each of our members are well-respected local experts with a strong understanding of local business practices, laws, and customs and have deep-rooted relationships within their communities. These strengths give TAG Alliances members a true competitive advantage in providing a seamless and personalized experience for their clients' global needs.
Global Reach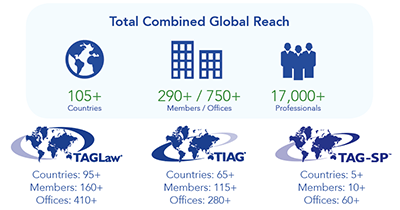 Benefits of Membership
PROTECT AND GROW YOUR CLIENT BASE
with access to a highly qualified international community of professionals that can responsively service your clients' global goals and needs at competitive rates.
DEVELOP QUALITY RELATIONSHIPS
that lead to COLLABORATION and NEW BUSINESS OPPORTUNITIES for your firm
ATTRACT NEW BUSINESS
from alliance member referrals.
MAINTAIN YOUR INDEPENDENCE
through membership in an alliance of independent firms versus a network or global firm
RAISE THE PROFILE OF YOUR FIRM
as a member of an elite, top-ranked international alliance
LEVERAGE INTERNATIONAL RESOURCES
and obtain timely answers to your clients' legal, accounting, and management questions
SHARE AND DEVELOP
best practices in a non-competitive environment
ACCESS DISCOUNTS, BENEFITS, AND SPECIAL OFFERS
from leading service providers to the legal and accounting professions
Want to Learn More?
If you would like to learn more about TAG Alliances, please contact our Executive Director, Chris Cervellera