Conference Portal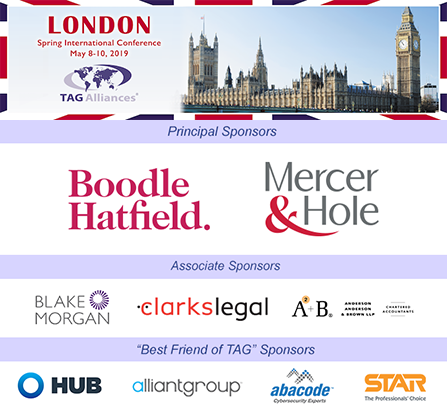 Click or tap the blue icons below to access these resources.

Follow Us on Twitter: @TAGAlliances / Trend the Conference: #TAGLondon
Please see the Addendum below for additional attendees, guests, & program changes.
Local Resources From Our Host Firms
London Guide - A comprehensive guide of London to help guests get the most out of their stay in the city.
London Map -

Restaurants, pubs, shops, etc. within a 10 minute walking distance of the conference hotel

.
Conference Survey and CLE/CPE/CPD Credit
To obtain CPE / CLE credit please complete the following steps:
During the conference, fill out the colored sign-in sheet for each session you attend.
Certificates will be sent out in the weeks following the conference.
(NOTE: TAG Alliances does not grant CLE (legal) credits directly, but will provide a certificate of attendance. Members must "self-report" to receive CLE credit from their respective jurisdictions. For accountants, TAG Alliances is accredited by NASBA to issue CPE credits.)

Addendum to Conference Program & Companion / Guest List
Conference Addendum - Contains attendees & guests who have registered after the program deadline, changes to sessions, and other updates. This will be made available at the conference.

Companion / Guest List

- Please refer to the Conference Program for the Companion / Guest list.

Photos
Click here to view the conference photo album.
Share your photos with us by sending them to This email address is being protected from spambots. You need JavaScript enabled to view it..

Conference Tips & Intentional Networking Checklist
Conference Tips (click here) - This document contains information about the dress code for events, lanyard colors, and CLE/CPE information. This is a must read if this conference is your first time at one of our conferences.
Intentional Networking Member Worksheet (click here) - We have prepared this worksheet to help attendees maximize their networking experience and to create opportunities for collaboration with members. The worksheet has helpful tips and best practices for before, during and after the conference.

Session Materials
Materials are added as they are provided to us by speakers and specialty group co-chairs.
Main Session Materials
Specialty Group Materials
Audit & Assurance
Best Practices & Firm Management
Employment & Labor
IP/IT & Cybersecurity and Life Sciences
Litigation & ADR

"Crying all the way to the Banksy"
"Vamp in the Veil"
Jane Doe
Additional Materials

Networking Lunch Tables
Thursday

Art Law
Audit & Data Analytics
Blockchain & Cryptocurrency
Diversity & Inclusion in Leadership
"Green"
Isle of Man as an International Financial Centre
Lunch w/ Editors from Chambers & Partners
Sports & Entertainment

Friday

Belt Road Initiative (BRI)
British & Irish
Business Valuations & Corp. Finance
Insolvency & Secured Transactions
TAG Tax
Transportation and Logistics

Future International Conferences
TAG Alliances Fall 2019 International Conference | Sydney, Australia Oct 30-November 1, 2019